Nurses' Steps challenge set to raise over £10,000 for local hospices
Published: 11 Mar 2022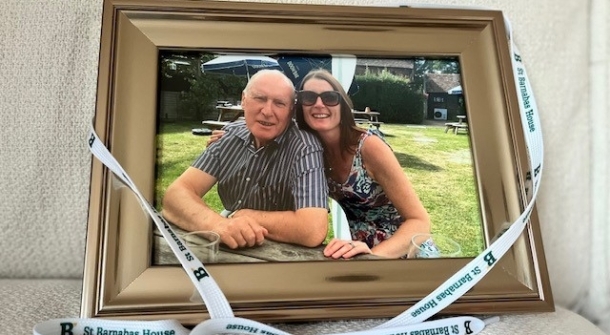 Throughout the month of February, over 75 local residents took part in Nurses' Steps, challenging themselves to walk 7,000 or 10,000 steps a day to raise money for St Barnabas House hospice and Chestnut Tree House children's hospice. They are set to raise £10,000.
The month-long virtual event celebrated the thousands of steps hospice nurses take each day when looking after children and adults, both at the hospices and out in the community.
The challenge, which was new to St Barnabas House this year, was open to anyone, of all ages and abilities. This year, 50-year-old Nicola took part in the challenge for St Barnabas House.
"I wanted to fundraise for St Barnabas House, but I didn't want to jump out of a plane or run a marathon, so Nurses' Steps was the perfect for challenge for me," said Nicola. "The challenge helped keep me active and got me outside everyday – even in the rain!"
During February, Nicola walked an incredible 465,044 steps in total, raising over £400 for St Barnabas House, the hospice who cared for her Dad, Chris, when he died in 2017.
"I lost my Mum when I was 15, so my dad was my rock, my hero. He bought me and my sister up on his own and he was such a special man," said Nicola. In 2017, Chris was diagnosed with lung cancer, and his health started to rapidly deteriorate.
"In October 2017, Dad was admitted into the In-Patient Unit at St Barnabas House. The care that he received was just amazing, and we are so grateful for everything they have done. We visited him in his private room every day and the team would support us as well. They were always asking how we were and how we were dealing with everything that was going on."
On 2 November 2017, Chris sadly passed away at St Barnabas House at the age of 78.
Explaining why she wanted to take on the Nurses' Steps challenge, Nicola said: "I wanted to fundraise for St Barnabas House to say thank you and give something back for everything they did for our family in 2017."
Speaking about the challenge, Georgie Packer at St Barnabas House and Chestnut Tree House, said "We'd like to say a big thank you to everyone who took part in Nurses' Steps. We receive very little government funding, so hospice care is only possible because of people like you. The money raised will make a big difference, thank you!"
To find out more about St Barnabas House and Chestnut Tree House, please visit  www.stbh.org.uk or www.chestnut.org.uk