RISE member update
Published: 22 Jul 2022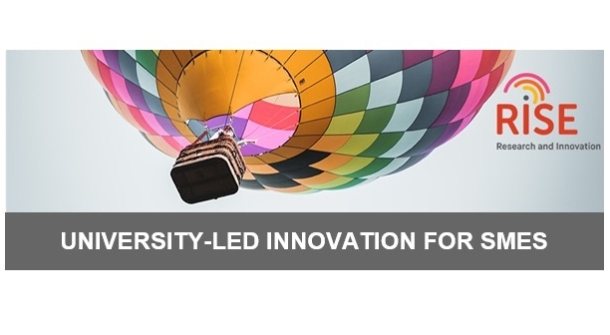 Hello, and welcome to our Summer update!
As the world is returning to some sort of normality, disruption with supply chains and labour shortages remain.
At RISE we are seeing a lot of 'pivoting' – this is having the ability to action change – this could be developing a new business model or services or product to adapt to marketplace changes. The good news is, RISE can help with the tools and expertise to pivot.
We have been busy helping members with market research to improve understanding of target markets, revising pricing models to cover energy costs and supply issues, developing new marketing strategies, creating efficient operational processes and advising on remote leadership and supporting remote workers.
Daily, we are seeing inspiring models of pivot innovation within our membership. Many are also embracing the challenges and opportunities of sustainability and Net Zero – and we're excited to be able to report that our first 3 Access to Expertise projects have a sustainability and circular economy focus, more on those to follow!
MEMBERS UPDATE
300 second - Pitching event with HHBA
Businesses had the chance to pitch for £5000 University Expertise at Haywards Heath Business Association event. Three businesses pitched their innovation ideas in front of peers and our Innovation 'dragon' Advisors last week.
Congratulations to Eco Product Technology, winner of the pitching competition with their rainwater water harvesting product, who will now receive support with a proof of concept and design prototyping.
Horizons: Tourism and Hospitality
Businesses from the Tourism and Hospitality sector have been attending workshops and masterclasses designed to support innovation.
Popular topics included diversity and inclusivity, understanding your customer experience and utilising data, new tech to enhance visitor experiences, enhancing your customer offer with water, wellbeing and the great outdoors and becoming a more sustainable business.
Delivered at venues across West Sussex by experts from the University of Brighton's School of Business and Law and Architecture, Science and Engineering, and Applied Sciences.
Huluki Sussex Stays said: "Excellent and well worth the visit to this workshop. Food for thought for our offering and will look now at potentially partnering with local businesses offering well-being experiences".
Along side two other sector themed programmes launching later this Summer, this series will be repeated later in the year - keep an eye on our new programmes page for the most up to date information.
Accessing University Expertise
We are excited to announce that our first Access to University Expertise projects are now underway, many with sustainability focus!
Researchers from the University of Brighton's School of Arts and Media are supporting Secret Projects with market research for the development of a textiles brokerage service, as well as proving strategy and research expertise for Your Sales Partners.
Experts from the University of Brighton's School of Applied Sciences are supporting Fairway Cost Consultancy with research on an alternative roofing solution.
Researchers from the University's School of Architecture, Technology and Engineering are supporting Circular Inc with a scoping analysis to build an automated stock and value tracking system. 
And RISE member, EPM Limited have started work on an exciting new Grant Funding Academy with experts from the University of Sussex.
Talk to us about your ideas, book your Innovation Audit.
Out and about in West Sussex
The RISE team have been busy visiting members and learning more about their businesses and innovation challenges and exhibiting at business shows across the county over the last few months - Lorraine and Zoe visited Tangmere Aviation Museum.
Mark visited Fermionx, Thriiver Ltd, Phoenix 4 Training, Seagreen Ltd, Powered by Vision Ltd, Two Twenty2 Ltd and eMotion Micromobility Ltd.
The RISE team were also at this year's Sussex Business Show, the West Sussex Business Expo and Meet your Neighbours on the Manor Royal event.
Lorraine met with lots of you at the Diamond Experts Marketplace event at the Roffey Park Institute last week.
There were some great innovative talks, excellent opportunities, and it was fantastic to catch up with so many businesses during the BBQ lunch. Great job GDB!  
We have been keeping in touch and working with Haywards Heath District Business Association, Burgess Hill Business Parks Association and Gatwick Diamond Business and are pleased to announce that we've now joined the Worthing and Adur Chamber of Commerce!
OPPORTUNITIES
RISE and Shine Innovation Club
Join our RISE community of active innovators for a monthly infusion of idea sharing, problem solving, collaboration and best practice as we launch our RISE and Shine Innovators Club.
Each month we will meet at venues across West Sussex for 3 hours – we promise this will be enormously valuable as we combine the chance to network face-to-face with fellow RISE members, support each other with innovation challenges and opportunities and get to learn from 'Innovation in Action' showcase businesses from across the region who have successfully innovated in these challenging times.
It's absolutely FREE to attend – all we ask is to commit to minimum 4 sessions over the next year. We'll provide the refreshments.
Net Zero 360 programme
Just like the digital revolution in the 2000s, net-zero is transforming business at a pace. Get left behind and you risk becoming irrelevant in the eyes of consumers, investors, and funders.
But where do you start? How do you work out what's right for you? And how do you deal with the complex issues, such as supply chains and product lifecycles?
Enter Net Zero 360 – the UK's first full-service net-zero business package. It gives you access to workshops, a rigorous carbon calculator, action-planning support, and university innovation expertise and facilities.
This three-part series of FREE workshops is where you get on...
Innovation Clinics with BIPC 
RISE is now delivering monthly clinics in the Business and IP Centres (BIPC) at West Sussex libraries.
Members can book 1-2-1 sessions via the BIPC booking page and benefit from a wide range of business support and research materials - the next clinic will run in September.
This three-part series of FREE workshops is where you get on...
Future Horizons 
New programmes in Manufacturing and Supply Chain and Health and Adult Social Care will be launching soon.
Help shape our programme by talking with our Innovation Advisors about your top challenges in your sector and the expertise needed to innovate in your business.
Funding Call: Fast Start Innovation
Innovate UK is offering small and micro businesses a share of up to £30 million in grants alongside tailored business support delivered by Innovate UK EDGE for affordable, adoptable and investable innovations in Net Zero and Healthcare sectors.
You can apply for up to £50,000 for highly innovative ideas that have a clear route to commercialisation through business growth.
Your project must lead to new products, processes or services that are significantly ahead of others currently available, or propose an innovative use of existing products, processes or services. It can also involve a new or innovative business model.
In your application, you must be able to show that you:
have a great idea
need public funding
have the capability to deliver the project
will deliver the project
Ideas must focus on either achieving net zero or self-driven healthcare, and how new technology can enable affordable, adoptable and investable innovations in these areas.
DATES FOR YOUR DIARY
14 July, 9.30am-12.30pm, at Crawley Library, Crawley
RISE and Shine - Innovation Club
8 September, 9.30am-12.30pm, in West Sussex - venue tbc
Net Zero 360: Become a sustainability pioneer
12, 19 and 26 September, 9.30am-12.30pm, Online (Zoom)
23 September, 10am-4pm, Worthing Leisure Centre, Worthing
Net Zero 360: Become a Sustainability Pioneer
14, 21 and 28 September, 9.30am-12.30pm, Online (Zoom)
Horizons Tourism and Hospitality Development Day - save the date
13 October, 10.00am - 2.00pm, venue tbc