Running in memory of my little girl
Published: 05 Jul 2022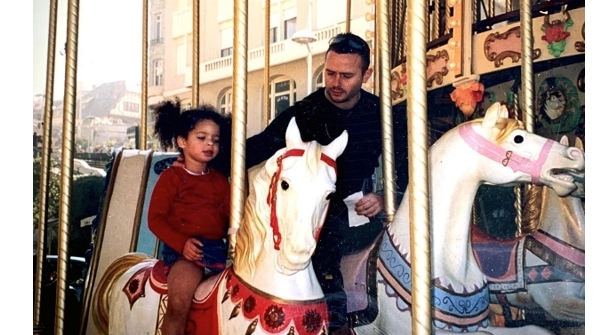 Neil, 48, from Islington, has signed up to take part in Chestnut Tree House's Littlehampton 10k to raise funds for the children's hospice that cared for his daughter, Sacha, when she died aged 13 years old.
Taking place on Sunday 4 September on Littlehampton beach promenade, the 10k route passes through residential Littlehampton, Rustington and Mewsbrook Park. Since it launched in 2003 – the year Chestnut Tree House children's hospice opened – the run has attracted a variety of participants every year, from individuals and groups of friends to corporate teams and running clubs.
For some participants, like Neil, the Littlehampton 10k will be an emotional, as well as a physical challenge.
"I can never thank Chestnut Tree House enough for all they did for our family at the end of Sacha's life," says Neil. "If it wasn't for the hospice and the emotional support and counselling, I would have dealt with my grief very differently over nearly 9 years since Sacha passed away."
Neil describes his daughter, Sacha, as a "fun-loving little girl, who was full of life and always had a smile on her face." Life was normal for the first few years – she was hitting her development milestones and the family were enjoying creating precious memories together. But, when Sacha was three years old, she started having unexplained seizures. "Sacha had lots of tests done and we didn't know what was causing the seizures over a very concerning two-year period," says Neil. "We eventually, received the devastating news that she was diagnosed with Batten disease and that she only had a life-expectancy of ten years old."
Batten disease is a very rare genetic disorder that affects the brain and nervous system. It causes the nervous system to steadily decline, causing a wide variety of neurologic problems, including loss of vision and seizures.
Not long after the family received Sacha's life-changing diagnosis, they were referred to Chestnut Tree House children's hospice.
"Sacha was on so many medications to help manage her symptoms. She was such a brave little girl," says Neil. "We would visit Chestnut Tree House for short breaks, and Sacha loved it there. They were so good with her. She was a very sensory girl, so they spent a lot of time in the sensory room with her and doing sensory activities.
"It wasn't only Sacha that benefitted from Chestnut Tree House. I benefitted greatly from their counselling team, who was always there to help. We also met other families in similar situations which made us feel less alone. Chestnut Tree House has the whole package, we had complete trust in them and knew we were all in safe hands."
On September 27 2013, at 13-years-old, Sacha sadly died at Chestnut Tree House in her dads' arms. "Sacha had a beautiful and calm ending," says Neil. "I remember the day after she passed, I walked into the gardens at the hospice and was welcomed by a wealth of butterflies, birds, and all sorts of wildlife all around us, a sign which gave me peace of mind knowing that she was okay. I will forever feel grateful for the hospice, as I know Sacha's ending could have been very different in a more clinical setting, such as a hospital. She was around people that knew and loved her"
Speaking about why he's signed up to the Littlehampton 10k, Neil says: "Chestnut Tree House have had such a big impact on my life, and they still do, and although I actually hate running, I just felt compelled to want to do something to give something back to them."
After the death of his daughter, Neil channelled his grief into artwork, communicating a message of hope and positivity. To find out more, please visit www.angel-london.com 
There's still time to join Neil and sign up to take part in the Littlehampton 10k this September. To find out more, please visit www.chestnut.org.uk/10k and to sponsor Neil, please visit www.justgiving.com/fundraising/RunforSacha