SHW announces 2022 Graduate intake - (revision)
Published: 27 Oct 2022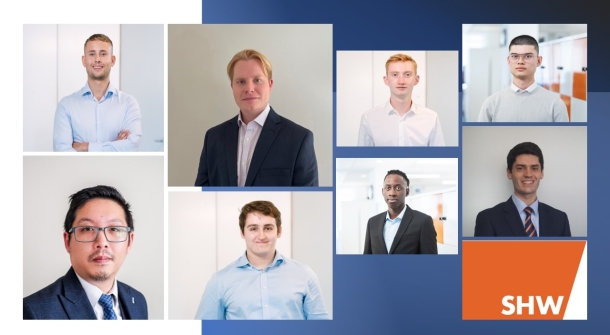 SHW has announced the appointment of eight new graduates to its team in 2022.
Within the firm's Planning team, Jamil Hornsby-Odoi has joined as a Graduate Planner based in SHW's South London Office. After completing his Urban and Regional Planning Degree from the University of Birmingham, he now works closely with the Planning team to help deliver planning services to the Building Consultancy and Development Consultancy teams and external clients.
Jack Barker has also joined as a Graduate Planner based in the South London office. He completed his master's degree in Spatial Planning at University College London and is working towards completing his APC to achieve RTPI membership.
James Yip has joined the Building Consultancy team as a Graduate Building Surveyor. Based in the London Office, James has over five years' experience in a broad variety of roles working in the Building Surveying industry, managing numerous projects from inception to completion.  And Nick Smith also joins the Building Consultancy team as an Assistant Surveyor based in Crawley/Gatwick. With over three years' experience, Nick is completing a variety of surveying tasks, working with firms such as Hampson Barron Smith (Haywards Heath) and Chawton Hill Associates (Leatherhead). Nick is currently completing a five-year apprenticeship degree at Kingston University, where he has so far completed the first three years.
As part of SHW's Real Estate Graduates' intake this year, Alex Thomson joined as a Graduate Surveyor based in the South East M25 Office. He is a graduate from Reading University with a BSc (Hons) in Real Estate. Alex gained work experience at Glenny LLP, Mactaggart Family & Partners, a real estate investment boutique in London, and Savills in Sevenoaks, where he worked for three months in the development team.
In the Commercial Property Management Department, Tom Papenfus has joined the Graduate Scheme. Based in the SHW Brighton office, Tom recently completed a three-year degree in Planning and Property Development at Oxford Brookes. He has previously had work experience with Peter Coldbreath in our SHW Crawley/Gatwick office, and another former client Michael Tapp of Green Property (now Viridian Property Ltd).
Finally, as part of the Professional services intake, Andrew MacLeod has joined as a Graduate Surveyor in the SHW Brighton Office having graduated from Edinburgh Napier University. And Tom Murphy, based in the SHW London Office, has also joined as a Graduate Surveyor. He has a master's degree in Real Estate from the University of Reading, and an undergraduate degree in History and Economics from the University of York.
Russell Markham, SHW's Managing Partner, comments: "We are delighted to announce this next wave of talent joining across disciplines and regions within SHW. Working closely alongside the Partners within their chosen discipline, along with the wider team, all our graduates also have the support of a dedicated team to oversee their growth within the company and within the real estate sector."