Speediest solicitor in the South East made a partner at Mayo Wynne Baxter
Published: 31 Aug 2022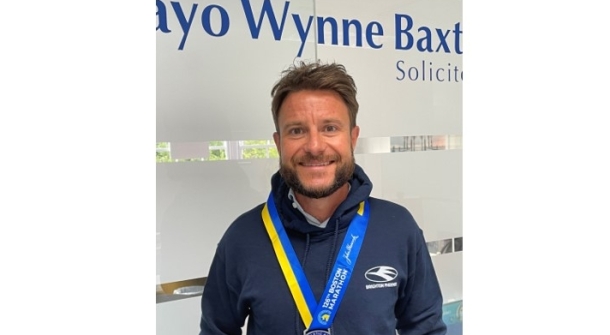 A Sussex solicitor who ran the world's oldest marathon race in record time is onto a winning streak and is celebrating his promotion to partner at leading South East law firm Mayo Wynne Baxter.
Brighton-based commercial property solicitor Jon Clays ran Boston Marathon in an incredible time of 2 hours 35 minutes and 59 seconds – a personal best, which saw him cross the finish line in 291st place out of more than 24,000 runners.
Jon, who is a member of Brighton Phoenix Athletics club, said it was a privilege to take part in one of the world's best-known road races, which first began in 1897.
He said: "What a fantastic day from start to finish. The crowd were out of this world and I felt truly honoured to be part of such an iconic race.
"To then run this time, which was a personal best, was the icing on the cake."
His marathon success coincides with Jon racing ahead professionally, as he is celebrating being promoted to partner at Mayo Wynne Baxter after three and a half years at the firm.
Having qualified in 2007, Jon is an experienced commercial property solicitor and has acted for a wide variety of clients ranging from national retailers and a multi-site marina operator to smaller companies and private individuals.
Speaking about his promotion, Jon said: "I was delighted to accept the offer of partnership.
"Since I started at Mayo Wynne Baxter in November 2018 after relocating from Hampshire, I've been struck by how forward-thinking the firm is, while not losing sight of its heritage. This is illustrated well by the firm's recent merger with the Ampa group. 
"The future is exciting and I look forward to being part of a firm that continues to serve the needs of its clients, the people of Sussex and beyond, for many years to come."
Jon's promotion comes after Mayo Wynne Baxter's recent merger with national legal and professional services group Ampa, to become the group's anchor legal brand in the South East. The firm continues to operate as a separate LLP, while building on its ambitious plans for growth.
Dean Orgill, chief executive partner at Mayo Wynne Baxter, said: "We're so impressed with Jon for running the Boston Marathon in just over two and a half hours – it's a fantastic achievement, made even better by the fact it is his best time yet.
"I think we can proudly say Mayo Wynne Baxter has the speediest solicitor in the South East.
"I also want to congratulate Jon on his well-deserved promotion to partner. He has shown the same determination and commitment he clearly has for marathon-running in his work and to the firm, delivering excellent results."
For more information, please visit: www.mayowynnebaxter.co.uk/