Triumphant trekkers return from Sahara trek for St Catherine's
Published: 10 May 2022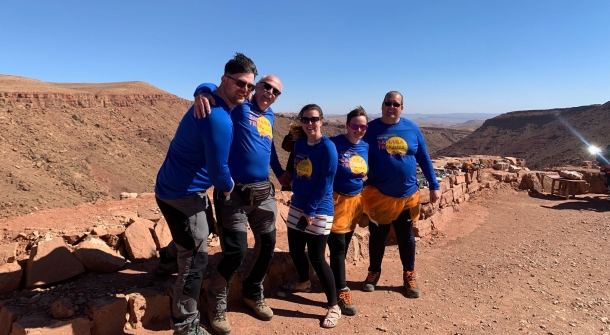 45 incredible trekkers have returned from a four day trek across Saharan sand dunes in aid of local hospice, St Catherine's Hospice.
The trekkers trekked across ancient dried up river beds and vast sun-baked plains before enjoying spectacular desert sunsets and sleeping under the stars each evening. As well as trekking, the two groups enjoyed a camel ride and celebratory dinners in Marrakech once their treks were finished.
Paul Talmey was one of the 45 trekkers who took on this incredible challenge to support his local hospice. He said, "The Sahara trek was an absolutely incredible experience. It was a great group of wonderful people and I made lots of memories to cherish."
The efforts of the trekkers will have a huge impact on local families living with terminal illness across our community. The group have raised over £136,000 so far towards local hospice care, with donations still coming in.
Michaela Clements, Fundraising Manager at St Catherine's spent time trekking in the Sahara with the hospice supporters. She said: "I've always known our community of St Catherine's supporters are brilliant. As I trekked across the largest hot desert in the world, I watched people push themselves out of their comfort zones to raise money for our hospice. Their dedication to supporting others in their community is amazing. Many trekkers have experienced our hospice care personally and are committed to making sure more families can have our expert help and support in the future. The Sahara was stunning, it was a very special trip."
There's still time to show your support for the Sahara trekkers. You can donate to their JustGiving page at: www.justgiving.com/campaign/stchsahara2020
Feeling inspired? To find out how you can take on your own challenge for St Catherine's visit: www.stch.org.uk/diy or call St Catherine's Fundraising team on 01293 447361.