Updates and business opportunities from the University of Brighton
Published: 04 Apr 2022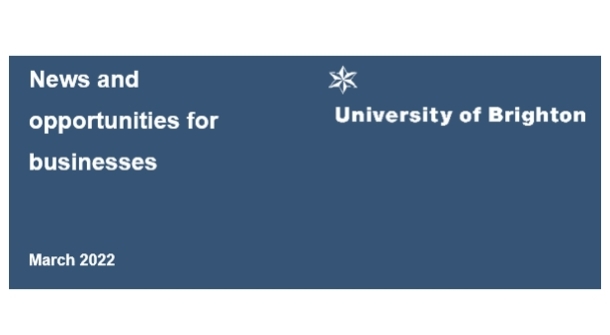 News and Opportunities for businesses - University of Brighton
Here are some of this month's highlights for our regional businesses and beyond - including some of the ways we can provide skills and innovation support.
If you would like to know about how the University of Brighton could work with your business - do get in touch at Enterprise@brighton.ac.uk.
Local businesses given 'Help to Grow'
Business leaders from across the region can receive vital business growth support as part of a new 90% funded government programme this spring.
Journalism student scores role with ESPN
Sport Journalism BA(Hons) student, Leon Imber has earned the hugely competitive 12 month internship to join the editorial team at ESPN in June.
Brighton researchers to transform older age health
The University of Brighton is leading a new national research network focused on transforming the wellbeing of older people and boosting the economy.
WORK WITH US
New programme to help tourism and hospitality businesses bounce back
RISE's Horizon: Innovation in the Tourism and Hospitality Sector programme helps businesses kickstart new ideas to innovate and grow.
Free for eligible SMEs.
Santander Universities Employability Scheme
SMEs can access £1000 match-funding to pay a final year student or recent graduate to work with you for six weeks this summer - that's half the cost of the internship!
Degree Apprenticeships Roadshow
Discover how Degree Apprenticeships can support your workforce at our Roadshow webinar series this May - sessions will cover business, engineering, built environment, health.
UPCOMING EVENTS
RISE Horizons: Innovation in the Tourism and Hospitality Sector
Thursday 31 March, 12-1.15pm, Free - Online
Monday 4 April, 2-4.30pm, Free - Advanced Engineering Building, Brighton
RISE Horizons: Innovation in the Tourism and Hospitality Sector
Tuesday 5 April, 12-1.15pm, Free - Online
BRITE Free 1-1 Session: How to Grow Your Business using Academic Expertise
Friday 22 April, from 10am, Free - Plus X Brighton
Marketing for Social Impact UK
Wednesday 18 May, 9-4pm - Elm House, Brighton
BRITE Free Workshop: Grow your Business through Partnerships
Thursday 5 or Wednesday 25 May, 9.30-11.30am - Plus X Brighton