Vaccine Update No 47
Published: 10 Feb 2022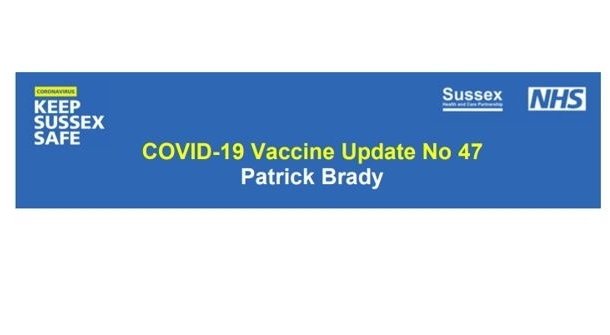 Update No 47 6th February 2022
Vaccinations begin for children aged 5 to 11 who are at risk in West Sussex
The COVID-19 vaccination programme has started to roll out to children aged between 5 and 11 who are most at risk of COVID-19 this week.
Children aged 5 -11 who are in a clinical risk group or who live with someone who is in immunosuppressed are now able to get the first dose of the COVID vaccine.
Eligible children include those with diabetes, immunosuppression, learning disabilities, and other conditions as outlined by the UK Health Security Agency in the Green Book.
Parents and guardians should wait for the NHS to contact them for when it is their child's turn to get the life-saving vaccine.GP led teams have been identifying eligible children ahead of vaccinations starting – and are starting to contact families. All of the GP led vaccination services in Sussex have signed up to offer appointments to this group and will be arranging appointments over the coming weeks.
All eligible 5-11 year olds will be offered two 10 microgram doses of the Pfizer vaccine eight weeks apart – a third of the amount used for adult vaccinations.The NHS is also reminding parents and guardians that their children can continue to get protection from flu with millions of reminder texts, letters and emails going out next week. More children than ever are eligible for a free flu vaccine this winter, including all two- and three-year-olds and all pupils from reception age to school leavers, to drive up protection from the virus.
Young people aged four to 16 will have been offered the flu vaccination through their school, but parents can phone 119 to find out how to book a jab if they do not have an appointment planned in school already.
Latest data reinforces the safety of COVID-19 vaccinations in pregnancy
The UK Health Security Agency (UKHSA) urges pregnant women to get vaccinated as latest data reinforces previous findings on the safety of COVID[1]19 vaccines in pregnancy.The latest data from UKHSA shows that vaccinated women who gave birth between January and October 2021 had a very similar low risk of stillbirth, low birthweight and premature birth compared to women who were not vaccinated in pregnancy.
Previous studies have shown the risk of being severely ill with coronavirus (COVID-19) is higher for unvaccinated women. Out of 235 pregnant women who were admitted to intensive care with COVID-19 between January and September 2021, none had received 2 doses of vaccine.
The latest analysis shows that women who had received at least one dose of COVID-19 vaccine during their pregnancy and gave birth between April and October 2021 were more likely to give birth without any of the reported adverse outcomes than women who had not been vaccinated in pregnancy (92.9% compared with 91.6%). This difference was more apparent in those aged 30 years and older.
Professor Lucy Chappell, Chief Scientific Adviser at the Department of Health and Social Care and a consultant obstetrician, said:
"It's really promising to see the number of pregnant women who were vaccinated at time of birth almost doubling in just 2 months and should be hugely reassuring for other women thinking about getting the jab. "The data also show that outcomes for babies continue to be reassuringly similar for vaccinated pregnant women compared to unvaccinated pregnant women.
"The vaccines are the best possible way for a pregnant women to protect herself and her baby – we urge pregnant women to get their vaccine, whether it's their first dose, second dose, or booster, as soon as you can."
Read more about vaccination in pregnancy.
Never too late to get boosted – or first or second
It is never too late to get your COVID-19 vaccine and whether you still need to have your first or second dose, or you're coming forward to get boosted, our walk in sessions and bookable slots are open to you.
Some people were initially hesitant to have the vaccine, but it's not too late. You will still receive a warm and friendly welcome from our staff and volunteers. If you haven't had your first or second dose vaccine yet, you can still benefit from the protection it offers against COVID-19, which is the best protection the NHS has.
No one except vaccination staff will know which one you're there for, and there are no different centres or queues for different doses. Please be assured that all our vaccine centres offer you a warm welcome, whether it's your first, second or booster dose.
People who are immunosuppressed can now use NBS for boosters
From this week, people who are severely immunosuppressed and aged 16 and over will be able to use the National Booking Service to arrange their boosters (fourth dose). People can use the website or call 119 to book their appointment at a local vaccination service, vaccination centre, or pharmacy led service.
People who are severely immunosuppressed are eligible for a fourth jab – at least three months on from their third dose – and are able to book a month in advance of that.
This group includes people having treatment for conditions such as cancer or those with long-term chronic conditions where their condition puts them at greater risk if they were to get COVID.
Severely immunosuppressed people will be required to provide a referral letter from their GP or specialist confirming their eligibility at their appointment. This should have been provided for the third primary dose, but if it hasn't been received, please speak to your specialist or GP. Those aged 16 and 17 years old will be directed by the NBS to sites that have been approved and assured to vaccinate this age group.
Consultation on removing vaccination as a condition of deployment for health and social care staff
National regulations making vaccines a condition of deployment for health and social care staff are now subject to consultation after an announcement by the Health and Social Care Secretary.
The government has set out that it keeps all COVID-19 measures under review, and when vaccination as a condition of deployment was introduced Delta was the dominant variant representing 99% of cases but now Omicron has now replaced Delta as the dominant variant – and therefore the mandatory requirement now needs further consultation.
Two vaccine doses against Omicron also become less effective over time, which is why the Get Boosted Now campaign was launched in December. The latest data from the UK Health Security Agency (UKHSA) shows boosters are around 90% effective in preventing hospitalisation from Omicron soon after they are administered.
While the legal requirement on deployment is being considered, those working in health and social care still have a professional duty to get vaccinated and Get Boosted Now – and all health and care organisations are continuing to work to encourage all staff to ensure they have had both primary doses, and their booster vaccination.
For more information read the oral statement by the Health and Social Care Secretary on vaccines as a condition of deployment
More information
Much more information about the vaccination programme is available on our website, including details of the services available in each area, latest data, stakeholder briefings, answers to frequently asked questions and links to all the national leaflets and materials.
Thank you for your support in helping to keep our local communities updated and informed about this fast-moving and unprecedented vaccination programme.
> Find more information about the Sussex COVID-19 vaccination programme
If you have any questions, concerns, comments or suggestions please contact
Patrick Brady – Email plb11@btinternet.com Mobile 07977 50643