Wessex IT joins forces with E-mpower.IT
Published: 09 Jun 2022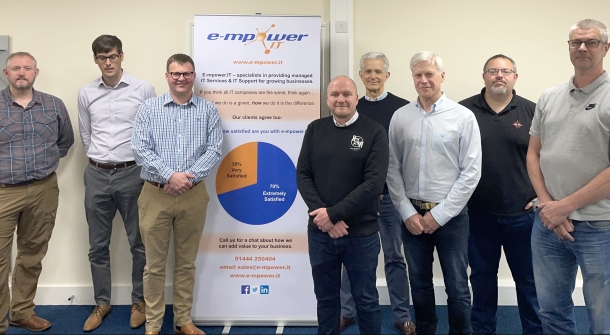 Managed IT provider Wessex IT welcomes fellow gdb member E-mpower.IT onboard, growing the team to 20 staff. The West Sussex-based partnership will trade under the Wessex IT banner.
The combined capabilities and resources of the two businesses will provide their growing client base with access to a wider range of professional technology services, specialist expertise and of course the exceptional customer service which E-mpower.IT is known for.
Directors Richard, Andrew and Jon will continue to lead the combined team and extend a warm welcome to Ian from E-mpower.IT who continues as Team Leader, as well as and Barry and Pete as Service Desk Engineers.
Jaffer Lokhandvala of E-mpower.IT will also be available to support the team and clients for the foreseeable future but in time his focus will shift to another business interest, and semi-retirement.  He had this to say about the merger:
"By joining forces with Wessex IT, our clients will benefit from the additional resource and breadth of expertise of the combined group which will ensure that the high levels of customer service they have come to expect will continue into the future. The culture and the ethos of the two companies is really well matched and together will offer its expanded client base a first class service focussed technology partner."
Richard Maynard, Director at Wessex IT said:
"For us, E-mpower.IT are the perfect match in terms of service mix, location, ethics and commitment to customers. The team have brought their passion for customer service with them, and we are confident that we have the right partner to take Wessex IT to the next level of its growth plans."
Management would like to thank clients and staff for their loyalty and dedication which has enabled the business to remain the versatile and ever-evolving technology business partner that it is today.  As Wessex IT expands it remains committed to the right technology solutions for each client, to deliver best in class service and to create an inclusive, innovative working environment.