Winning wildlife photo announced
Published: 18 Nov 2022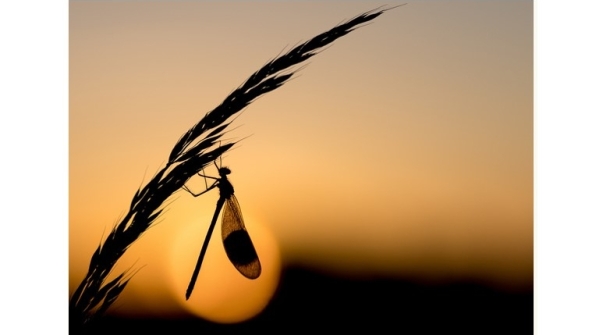 And the winner is...
We are excited to announce the winner of our 2022 Photo Competition is Brian Watkins of Haywards Heath, with his outstanding photo - Banded Demoiselle Silhouette.  
Brian told us 'The photo was a lucky chance encounter - I noticed the Banded Demoiselle roosting on a piece of grass. I'd always wanted a nice shot of one of these, so quickly changed to a macro lens and just had enough time to frame the demoiselle using the setting sun before it disappeared below the horizon. I decided to try the silhouette as it was too dark for a standard shot and I'm so pleased it worked.'  
Anthony Thomsett from Henfield was the runner-up with his perfectly captured hunting Fox.
Thank you to everyone who took part and voted in this year's competition.
Your favourite sign of autumn
Thank you to everyone who voted for your favourite sign of autumn, we had a great response. Your overwhelming favourite was the leaves changing colour with over 60% of the votes, with fungi second and conkers third. We also enjoyed the lovely comments we received; it's clear autumn is a very special time for many of you:
"Nature puts on this glorious show for us all. I love the smell of autumn too."
"The vibrant pops of colour brighten the dullest of days and sparkle in autumn sunlight."
"Like nature's confetti and like living inside a Nora Ephron movie!"
But our wonderful autumn woodlands are under threat. Recent proposals for changes to nature and climate laws by the UK government are the worst attacks on the environment we've seen in recent years. Help ensure generations to come can enjoy autumnal wildlife by joining us as a member.
Upcoming events