2023 OD Conference – Creating Workplaces where Organisations and People Thrive
Published: 18 Jul 2023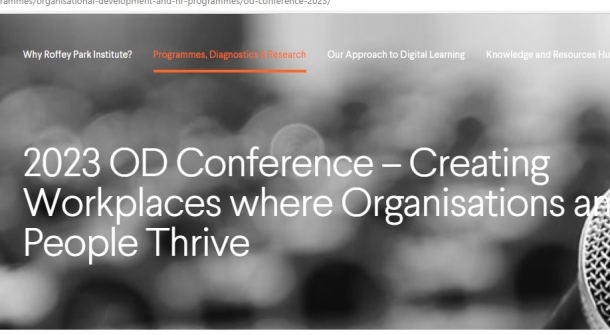 26-27 October 2023 at Roffey Park Institute
Post-COVID, the world is disrupted and priorities have shifted. Supply chain disruptions, conflicts, and changes to the cost of living are challenging organisational assumptions about the future and creating insecurity for their people. Remote and hybrid working is increasingly the norm.  Work is no longer tied to a place and employees are increasingly expecting more freedom over where and how they work. By choosing to vote with their feet the challenges over talent retention and attraction are escalating.
The business models of the past are no longer fit for future purpose and organisations find themselves in endless cycles of change to generate growth as well as create a culture where employees want to work, and which is profitable and sustainable.  It's complex, ambiguous and messy.  It's time for organisational development practitioners, current and aspiring, to step up and support change in organisations using a holistic and humanistic approach that puts people at the heart of the process.
Join us at our OD Conference on 26-27 October
You'll hear from international keynote speakers, be inspired from workshops sessions led by practitioners, enjoy lively discussions, share learning and experience with a group of OD professionals.   And enjoy the hospitality, welcome and environment that Roffey Park Institute is renowned for.  We'll be exploring key questions such as:
How do you deal with your people's changing expectations of work, while attracting, developing and retaining talent?
What brave decisions do leadership need to make in order to survive and thrive in our disrupted world?
What would be the positive impact of fostering a culture of trust, innovation and psychological safety in your organisation?
Roffey Park Institute is a centre of expertise in organisational development and a pioneer of action learning for over 75 years. For the last thirty years, our MSc in People and Organisational Development has been at the forefront of developing the practice and field of OD which enables people and organisations to thrive.
Our 2023 OD Conference will take place on 26-27 October at Roffey Park Institute and we're finalising the details of an exciting programme which includes:
International keynote speakers
Practical workshops
Space and time for learning and networking with practising OD professionals
Keynote Speakers
Gervase Bushe Professor of Leadership and Organization Development, Simon Fraser University
Leading generative change: challenges for leaders and consultants
Many people now believe that the usual approach to change (form a task force or hire outside expertise to develop recommendations you then try to implement) is inadequate for the complex, multi-layered issues organisations face.  Generative, emergent change strategies have proven much more effective, producing rapid, transformational change, yet many leaders shy away from them.  In this talk Gervase will outline the basic "generative change model" he's adduced from studying Large Group, Dialogic OD efforts that produce transformational change.  Then he will review the challenges these change processes create for consultants and leaders and outline ways consultants can prepare their clients to lead generatively
Graham Curtis Director of Operations, Roffey Park Institute
Can we ask what keeps things the same, rather than how do we change things?
Graham will draw on his doctoral research to explore how we all may be unconsciously contributing to maintaining the status quo, even when we are discussing making change happen. He will draw attention to how our focus on individuals may be hampering our ability to notice how stability and change emerges in how we relate to each other. Graham will also explore a way to think about our practice that puts curiosity and doubt at the heart of how we work.
Linda Holbeche
Co-Director, The Holbeche Partnership
Beyond turbulence to sustainability – why OD's time has come
In today's turbulent times how can OD practitioners help their organisations develop the resilient foundations for sustainable success? OD is uniquely well placed to make a strategic, impactful contribution, collaboratively finding answers to questions such as What are the key external and internal drivers of the new world of work? What does the new "normal" organisation look like? What are the "organising principles" for people, system, and processes? How to develop the agile, nimble, resilient, collaborative behaviours and ways of working required for innovation? What is the culture in which people and organisations will thrive? Who needs to do what to achieve this?
If practitioners can effectively lead their organisations' responses to questions such as these, OD's time has truly come
Chris Mowles
Professor of Complexity and Management
Taking complexity seriously: toward more human, interdependent organisations
In this session Chris Mowles will take a radical view of the complexity sciences in an attempt to recognise organisational life as it is already, always complex and dynamic, rather than as we would like it to be, ordered and predictable. In doing so he argues that we should move away from our dependency on individualistic ideas of the courageous leader. Instead we might think that leadership arises in the negotiation of power as group improvisation. The exercise of authority is a highly social phenomenon and is not just located with leaders. Moreover, if we are to make organisations reflective of the fact that we humans are imperfect, he will consider what kind of conditions and practices need to pertain to make them more fully human, particularly in conditions of high uncertainty
Conference MC
Neil Mullarkey
In the Moment
Neil Mullarkey will be our Conference MC and will also lead a fun energiser workshop to kick off our second day. This will be an interactive session where Neil Mullarkey will show you how the skills of improv theatre are readily applicable to every day life – not so much thinking on your feet as listening on your feet – helping your creativity, collaboration and leadership.
Workshop Leaders
Caitriona Heslin
Elaine Birkett
Building capacity for change in health services
As part of our remit in the Health Service Executive, the public health service in Ireland, we support a programme of work that focuses on building the skills and confidence of health and social care colleagues to navigate change for service improvement and integration. This work is underpinned by the formal policy and framework for change, the Health Services Change Guide, which is a bespoke evidence based approach to people and culture change. This workshop will share insights on the OD approach taken to build capacity and how that might be applied in other organisations.  
Toby Lindsay
Sarah Beart
Organisation Design and Organisation Development – Suit, Cardigan or both?
In this workshop we will invite participants into our ongoing exploration of the relationship/boundary/divide between organisation design and development. We argue that from a Socio-Technical Systems approach, amongst others, this divide is unhelpful and takes us a way from the most helpful integrated approach to development that we can. However, we acknowledge that divide and distinction always serve something. In an experiential session we will invite collaborative inquiry, and sharing of experience through a range of techniques. We expect to engage in small and whole group dialogue, constellation and line-up exercise as well as working with metaphor and analogy
Gwen Stirling Wilkie
Omni-Working: From reacting to reimagining work in a post-pandemic world
If almost 60% of leaders report they are still developing their approach to hybrid working, how can we best help them navigate the complexities of post-pandemic working? Since November 2022 Gwen has been in conversation with leaders to understand how they are reimagining work itself, what they are experimenting with, and moving the debate away from the WFH or in the office narrative. She will share insights from these conversations along with key elements from her Omni-Working framework. This is designed to guide leaders in using dialogic approaches to create the blend of post-pandemic working that best suits their organisation.
Dr Nia D Thomas
The Bouncing Ball of Behaviour – Developing self-aware leaders around the globe to generate kinder, more respectful and creative working relationships through reflection, recognition and regulation
Using the back-and-forth movement of a ball between people, we explore self-awareness and self-aware leadership across the layers of reflection, recognition and regulation.  When we change our perspective and conceptualise the ball as behaviour, it helps us to understand, through our senses, how our behaviours go out into the world, how they are received and perceived by others, how they are received, the impact they have and ultimately, how we can change them. 
Agenda
Arrive at 9 am on 26 October 2023. Conference finishes at 2.30 pm on 27 October.
Please keep checking this page for updates to the agenda.
Fees
We have a limited number of bedrooms available for the night before the conference at a rate of £100 for bed and breakfast.  To reserve a bedroom please email us
Residential fees include conference place as well as tea/coffee, meals and accommodation. 
Non-residential fees are exclusive of accommodation, breakfast and celebration dinner. The Celebration Dinner is available at an additional cost of £60 +VAT per person.
Are you one of our MSc Alumni or part of an OD Network group?
We know that many of our MSc alumni and other OD professionals have regular reunions to catch up and share perspectives and practices.  If you're planning a reunion and want to attend the conference, then we can offer a special rate of £146 +VAT per person to include a meeting room on 25 October, lunch, celebration dinner and overnight accommodation at Roffey Park.  We only have limited availability so please contact us to find out more.
Why choose Roffey Park's OD Conference?
Roffey Park Institute is a centre of expertise in organisational development and a pioneer of action learning for over 75 years. For the last thirty years, our MSc in People and Organisational Development has been at the forefront of developing the practice and field of OD.   We are the home of people and organisational development.
As an educational charity our research aims to challenge perspectives and practices to enable people and organisations to realise our potential.  All conference fee revenue will be transferred to the Val Hammond Research Fund.  The fund, set up in recognition of our former Chair and CEO, cements Roffey Park's commitment to applied management research through expanding the diversity and reach of thinking aimed at improving the world of work.
By attending the conference, you will be actively contributing towards future research in improving the world of work for all.
The Venue
Roffey Park Institute is our purpose-built dedicated training, events and conference venue which is set in 40 acres of rural Sussex Countryside just five minutes from the M23 and 20 minutes from London Gatwick Airport.  With 60 bedrooms, comfortable surroundings, natural daylight, access to acres of space and first-class hospitality you can relax and enjoy the conference. 
Sponsorship Opportunities
If you are interested in being a sponsor for our OD Conference, please contact us for details.