A Decade of Innovation: Contactless Payments Transformed Transit and will Continue to Define its Future
Published: 09 Jan 2023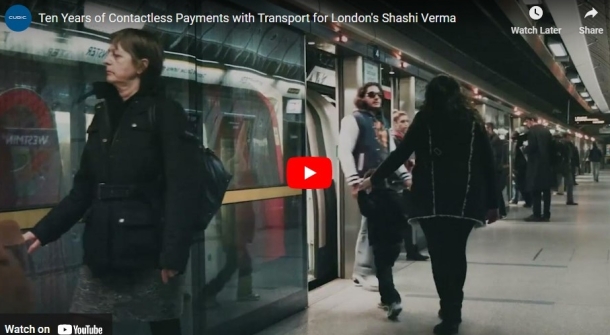 In December 2012, Transport for London (TfL) helped revolutionize the transportation industry by designing a contactless payment system that supported both proprietary and 'open payments' using EMV contactless chip cards and mobile device payment via account-based systems. 
While TfL was avant-garde in its approach then, we know that global appeal has vastly expanded since 2012 as we've seen adoption of contactless payments in plenty of other cities around the world, including New York, Syndey, Brisbane, Chicago, and Vancouver. However, the transit space as a whole remains heavily rooted in legacy systems, which can be challenging to update. The good news is that contactless is in line with many of the digital transformation efforts in transit, and commuters around the world should anticipate adoption of open-loop, contactless payments soon. 
The right way is not always the easiest
No one wants to spend valuable time in their day buying a transit ticket, even with a guaranteed best value. By allowing customers to pay using what is already in their pockets and in their existing currency, agencies can provide critical ease of use for fare payments and a preferred experience to customers, resulting in increased ridership. Further, by improving the overall transit system experience and allowing for fare payment to transcend language and currency barriers, you make the system more accessible to both residents and visitors or tourists in your city. 
For agencies that are considering contactless payment solutions, guaranteeing the best value to customers is not always the easiest thing to accomplish. Where TfL got this right was in its focus on prioritizing the customer experience. The transition to contactless fare payment in London was simple and easy to understand, and people were not put off by the process of buying the ticket.
TfL also implemented clever rules to its back office systems in order to automatically correct passenger journeys and assure customers of daily and weekly fare capping. This gives riders confidence that, when they tap, they will be provided with the best fare. No one should underestimate how important that is. 
When NFC technology first created the potential for issuing virtualized cards, it would have been possible to invest in this. But, TfL was fully committed to making contactless payments a reality, with a clear strategy for what an exceptional customer experience would look like, built on international digital payment standards. This paved the way for a system that is future-proofed, more agile and ready to take on the next type of payment token.
You can learn more about TfL's launch of contactless payments in this short video with Shashi Verma, Chief Technology Officer at TfL :
The benefits to consumers and agencies
The appeal of contactless payments is that people won't need to load funds onto fare cards; they can simply purchase fares using their typical payment methods, ranging from digital wallets to smartphones to wearables. For their part, agencies benefit from technologies like bank-issued contactless cards and mobile wallets that facilitate tap-to-pay convenience to move passengers through gates with much improved efficiency. They also see decreased costs with less need to issue or replace closed-loop fares — just as there's also less need for ticketing kiosks and machine maintenance since customers with NFC enabled-devices are inclined to choose digital fares.
On the 10th anniversary of first deploying contactless fares in London, we wanted to share some of the lessons we've learned in order to help other agencies that are thinking about transitioning to contactless. For starters, simplicity is key. TfL wasn't a greenfield site, and it wasn't a transit environment that lacked a smart card system. London had a hugely successful system already in place when they decided to layer contactless on top of the Oyster card system, using a single reader. We knew we could make it work, but we had to carefully manage the transition from Oyster-only to Oyster-plus as the most challenging part of the process.
Sydney went through a similar process and had many of the same challenges when Transport for New South Wales (TfNSW) decided to transition from the Opal Card to add contactless payments. 
Conversely, in the US and specifically in New York with the OMNY system, people didn't yet have contactless payments or chip-and-pin payment cards. By following London as a model for success, the US revolutionized the way it does contactless payments. Ticketing is also helping to facilitate payments elsewhere, and London was ultimately the catalyst for these modernizations. There are many ways to ensure that each solution can meet the needs of various cities and different populations around the world. Contactless is a great payment option for modern transit riders, but it's certainly not the only viable solution for improving the customer experience in this space.
Payment tech continues pushing forward
Modernizing public transportation systems by including contactless payments technology will add critical payment choices for consumers and encourage transit usage over more cars and taxis on the already overcrowded roadways. Contactless payment is an evolving technology, and its potential uses are still being discovered. One example is biometric payment cards, which are credit and debit cards that have fingerprint scanners, essentially increasing the security of mobile apps. And, as financial management becomes increasingly digital, the use of digital payment technology will only grow in favor and adoption.
For any agency considering contactless payments, the biggest key takeaway is to do it — but plan it very carefully. Agencies should give careful consideration to their customers and how they will realize the benefits. As with many cities where contactless has already proven to be successful, it is also not the only option for fare payments. Cities now, and in the future, must be mindful of providing equity and accessibility in transit. Ultimately, you have to accept that it's not about technology. The tech is there, but it's really about how you package it for your customers and how well you can make it invaluable to their experience.