AIR AMBULANCE CHARITY KENT SURREY SUSSEX RECEIVES HIGH SHERIFF AWARD
Published: 21 Jul 2023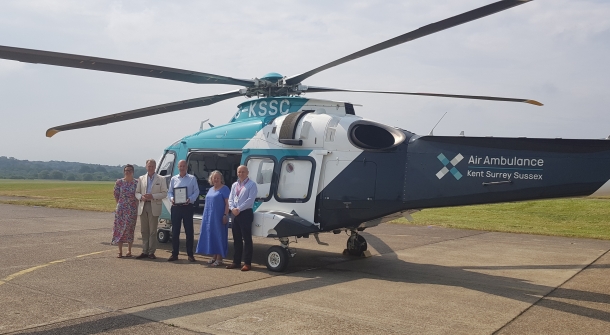 Air Ambulance Charity Kent Surrey Sussex (KSS) has received a High Sheriffs' Award in recognition of its outstanding services to the community.
The award was made by Jane King, James Whitmore and His Honour Christopher Critchlow DL, the Immediate Past High Sheriffs of East Sussex, West Sussex and Surrey – who all visited KSS during their High Sheriff year (2022-23) gaining insight into the life-saving work of the charity.
On Monday 12th June, Jane King and James Whitmore returned to KSS's Redhill base to present the Award, which was received on behalf of the charity by KSS CEO David Welch, KSS Medical Director Dr Duncan Bootland and Executive Director of Fundraising and Philanthropy, Kelly Heaton-Ralph.
David Welch said:
"It was a real honour to receive this award on behalf of everyone at Team KSS, in recognition of the amazing service our charity provides to the community, and a great pleasure to welcome back Jane King and James Whitmore. I want to convey my sincere thanks to the Immediate Past High Sheriffs for making this award, which is testament to the commitment of our extraordinary team."
"Last year we experienced our busiest year, responding to 3,224 critical incidents. It costs over £45K each day to operate our life-saving service, and most of this is funded by our communities. It is thanks to our communities in East Sussex, West Sussex, Surrey and Kent that we can save lives when every second counts, and this award also recognises their incredible generosity."
For further information:  aakss.org.uk