Digital Marketing and Content Producer Apprenticeship briefing Webinar
Published: 17 Jan 2022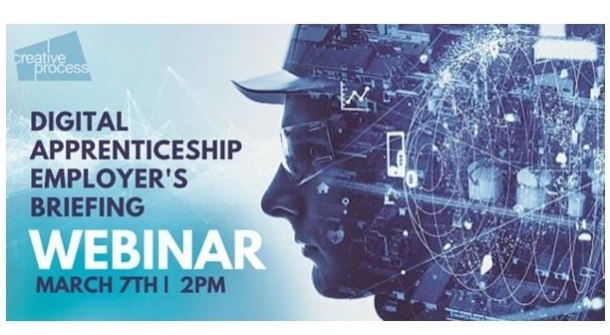 Are you a growing business interested in learning more about industry led apprenticeship programmes that help you find digital talent and stay ahead of the digital curve?
Want to access £12,000 of Government funding to invest in new hires or to up-skill existing staff?
Join Creative Process for their
Digital Marketing and Content Producer
Apprenticeship briefing Webinar
Monday 7th March
2pm – 2.30pm
Find out about their Digital Talent Programme and the new £3000 government bonus scheme
More about the programme:
The Creative Process Digital Marketing and Content Producer Programme sources talent to meet your skill requirements and provides you with a shortlist of digital applicants to choose from. Consisting of unique masterclasses and online sessions (worth £12k), the 15-month-long programme is delivered by digital marketing, content and e-commerce experts to fast track your new hire's digital skills and knowledge.
"Emma has been our apprentice for two months now, and the difference she has made to us in that time is spectacular. She has helped us create content for our websites, promoted our organisation on social media channels and administrate wider branding projects. She's been a fantastic support and I can't wait to see what else she achieves over the next 16 months" - Brighton Dome & Brighton Festival