Herd of giraffes to be unleashed in Croydon as part of new and exciting art trail
Published: 17 Aug 2023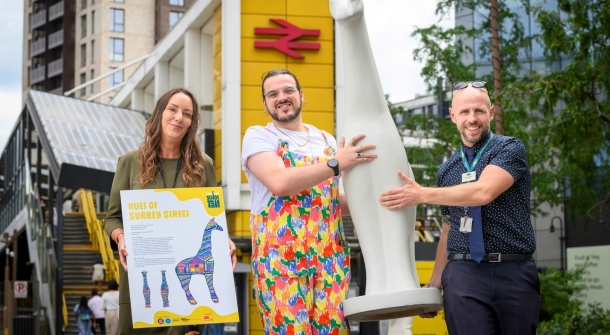 Southern Rail is one of the campaign sponsors, working with Wild in Art and Croydon Business Improvement District
Families can begin the trail by taking the train to East Croydon
An eight-foot giraffe sculpture is set to appear just outside of East Croydon train station as part of a new art trail which will take over Croydon town centre. From Monday 21 August, passengers can see the vibrant giraffe, designed by Arron Bevan, as part of the Croydon Stands Tall trail.
The eye-catching artwork, titled Hues of Surrey Street, can be found in Ruskin Square – just across from the train station – and boasts a colourful pattern, with the recognisable Croydon tram wrapped around its neck. Arron, who is based in Croydon, said the design is meant to reflect the hustle and bustle of Surrey Street Market, which captivated him as a child and still does to this day.
The four-legged friend is one of a 30-strong herd, each decorated by an artist and sponsored by a local business, which will be unleashed on Croydon's streets for 10 weeks.
Sophie Finn, Area Station Manager for Southern Rail, said: "We're excited to have this unique and free experience on our network. We're hoping that families across London and beyond travel to Croydon to take part in the new art trail. Travelling by train is a great way to get here and one of the giraffes can be found just a stone's throw away from East Croydon station. Make sure you visit the quirky sculpture in Ruskin Square as part of the London Borough of Culture celebrations."
Launched by Croydon Business Improvement District (BID), Croydon Stands Tall is one of the 14 showcase events for the London Borough of Culture. The event, in collaboration with Wild in Art, aims to attract visitors to Croydon to take part in the thrilling adventure that's perfect for families and friends.
Matthew Sims, Chief Executive at Croydon Business Improvement District (BID), said: "This free event will unite our community, inviting everyone in Croydon—residents, workers, and visitors—to partake in the joy and celebration of our exceptional town on a massive scale. As well as creating a fun experience for all this summer, we are fundraising for Crisis Skylight Croydon who are working hard to eliminate homelessness in our community at a time of great need.
"We are thrilled to be partnering with Southern Rail who have, right from the start, shown their passion for Croydon, our people and the simple need to give back to our community."
When the trail ends on Friday 27 October, there will be a charity auction to raise £100,000 for national homelessness charity, Crisis, and its Skylight centre in Croydon, which will help the charity continue to deliver one-to-one support, advice and courses for people who are homeless or at risk of becoming homeless across the borough.
Tarron Pearson, Operations Manager at Crisis Skylight Croydon, said: "We're really excited to see the trail launch this summer and to welcome all of the giraffes, and the amazing artwork, to Croydon. We're really honoured, here at Crisis, to be the charity partner for such a unique event in Croydon. The auction at the end will help us to continue our work, supporting people across the borough who are facing the devastating reality of homelessness to rebuild their lives and leave homelessness behind for good."
School children from across the borough have also got creative and painted 30 four-foot giraffes to create a secondary trail across Croydon. Youngsters can see their masterpieces come to life in several indoor venues throughout the town.
Those wishing to travel by train can plan their journey at www.southernrailway.com.