January Sale - Sussex Wildlife Trust
Published: 23 Jan 2023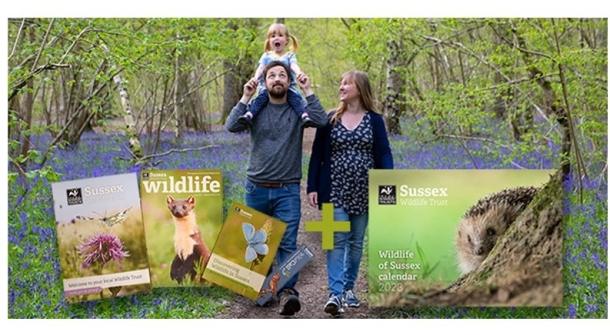 Still time to become a member for half-price
We are offering you half-price membership via online direct debit, and a free 2023 Wildlife of Sussex calendar until the 31 January 2023.
As a new member you will be sent a welcome pack, including Wildlife magazine and a detailed guide to our nature reserves. You will also be invited to exclusive members-only events and receive discounts on courses and events.
Sussex Wildlife Trust membership is the perfect way to get closer to nature, and helps us protect our county's rich wildlife habitats. 
Leaky dams
The Sussex Flow Initiative has created over 600 leaky dams across Sussex. Made from coppiced branches and sticks, the dams aim to mimic the actions of Beavers.
These dams have a number of benefits. They keep water on the site longer, which helps counteract the impact of dry summers and during periods of heavy rain, they reduce flood risk downstream by slowing the flow of water. Leaky dams also create a variety of habitats benefitting wildlife.
Sam Buckland, Sussex Flow Initiative Project Officer tells us more about his leaky dam natural flood management project with Chailey School.
January sale
Grab yourself a bargain in our January Sale. Wildlife of Sussex Calendars, Rye Harbour Nature Reserve Calendars and Christmas Cards are all reduced.
Selected books, including Concise Garden Bird Guide, Nick Baker's Bug Book and 365 Days Wild, have 20% off.
While stocks last!