Knowledge Hub Falmer: The 4-Day Work Week
Published: 03 May 2023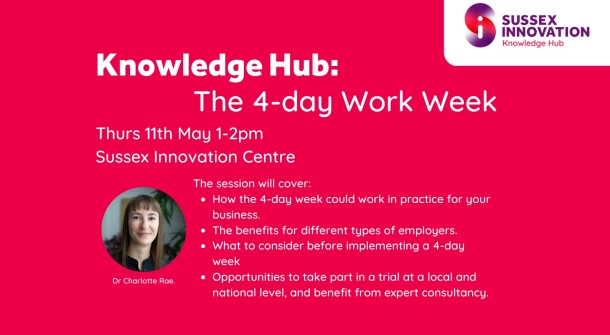 Event Date/Time:
Thu, 11 May 2023 13:00 - 14:00 BST
Location:
Sussex Innovation Centre Science Park Square Brighton BN1 9SB
Interested in the 4-day work week?
Last year, 60 companies and 3000 employees took part in a national trial.  92% of these participants have chosen to continue with the 4-day week, reporting increased productivity, reduced burnout, better mental health, enthusiasm and engagement with work.
On the 11th of May at the Sussex Innovation Centre in Falmer, there is an opportunity to hear leading authority Dr Charlotte Rae discuss the 4-day week and how it can help your business.  The Knowledge Hub will cover:
How the 4-day week could work in practice for your business.
The benefits for different types of employers.
What considerations you must make before implementing a 4-day work week.
Opportunities to take part in a trial at a local and national level, and benefit from expert consultancy.
Reserve your place here: https://bit.ly/3HkXUq6