Managing Flexible & Hybrid Working Request
Published: 14 Sep 2023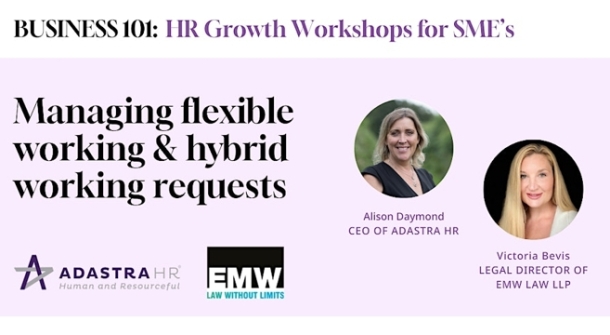 Join us for a dynamic event that will revolutionise your approach to HR in the modern workplace! Business 101 - HR Growth Workshops for SMEs, hosted by Adastra HR and EMW Law, combines two top industry experts to equip you with invaluable insights (with a commercial edge).
Date: In-Person - October 11, 2023 | Virtual (Via Zoom Link) - October 19, 2023
Location: EMW Offices, 3rd Floor, St Johns House, Haslett Ave W, Crawley RH10 1HS
Meet the Speakers:
Alison Daymond: As the CEO of Adastra HR, Alison brings over 25 years of expertise in HR in both public and private sectors, managing revenues of up to $2.6 billion across global organisations.
Victoria Bevis: Legal Director at EMW Law, Victoria specialises all employment and HR matters, including business immigration, and has extensive experience in many business sectors.
What to Expect:
Managing Flexible & Hybrid Working Requests - with a commercial edge.
Discover practical strategies to tackle the challenges of modern work arrangements, including those related to caring responsibilities at home.
Interactive Training: Victoria Bevis enjoys delivering interactive and practical training to HR professionals and managers, ensuring you leave with actionable knowledge.
Award-Winning Expertise: EMW Law won the Best Flexible Working Practice award at the 15th Gatwick Diamond Business Awards—an accomplishment you won't want to miss.