Mick Harford takes over Luton station with special announcements ahead of Saturday's Thameslink Derby
Published: 14 Aug 2023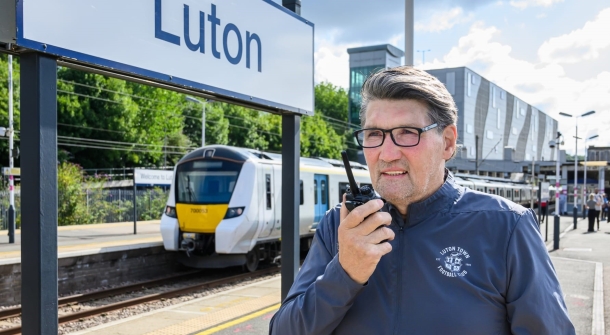 Luton Town legend Mick Harford has swapped the football stadium for life on the rails, taking on the role of station announcer at Luton this week. He's trying out the new job to celebrate Luton Town's first ever Premier League match this Saturday.
This will be the club's first game back in the top-flight division for over 30 years, where they will be heading to the other end of the Thameslink network to take on Brighton & Hove Albion. The rail operator is hailing it the 'Thameslink Derby'!
The special announcements by Mick can be heard at Luton station throughout the week, including match day on Saturday. The recordings commemorate this important moment in history for the Hatters and wider community in Luton.
Mick, who is now the club's Chief Recruitment Officer, said the community is an important part of Luton Town's success, from consistent home support to never losing faith in the club making it to the Premier League.
"This Saturday is a huge day for Luton Town FC, so it's been great to work with Thameslink to offer words of support for the club, whilst getting passengers excited about the game. It's not every day that you get to hear your voice on the loudspeaker at your local train station, so to have the opportunity to do it whilst celebrating Luton's incredible achievement is an honour. Good luck to the boys, I'm feeling confident for a win," Mick said.
Govia Thameslink Railway has a longstanding relationship with Luton Town FC, supporting its Academy players with free travel passes for the past 15 years.
Jenny Saunders, Customer Services Director for Thameslink, said: "Whether you're a football fan or not, this is a huge moment for Luton and it's incredibly exciting for the local community. With both teams on the Thameslink network, we're of course sharing our support for the Hatters and the Seagulls. Both teams have done extremely well to get into the Premier League and Europa League respectively. We wish all the players and fans the best of luck!"
Head to Luton station to hear Mick's announcements from today until Saturday, 12 August. Customers planning to travel by train to the game on Saturday are encouraged to check the journey via the National Rail website.