Over 600 people walk through the night for St Catherine's Hospice
Published: 10 Jun 2023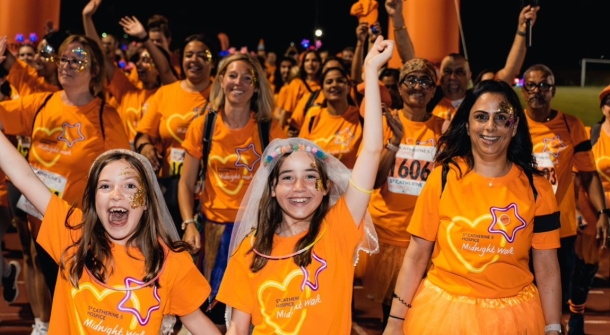 Over 600 people took to the streets of Horsham on Saturday night, 10 June, to take part in St Catherine's Hospice's Midnight Walk to raise money for the charity which provides expert end of life care and support to people across West Sussex and East Surrey. 
The nighttime walkers were able to choose a distance of 2, 7, 13 or 20 miles, starting and finishing at The Bridge Leisure Centre in Broadbridge Heath, with routes going through Horsham town centre. The routes were marshalled by enthusiastic volunteers who cheered the walkers on and kept them going throughout the night. 
The charity's flagship fundraiser, which is on track to raise an impressive £100K from the event, was extra special this year to mark St Catherine's 40th Anniversary. Organisers arranged more entertainment and music along the route, as well as the usual glow sticks, face paint and orange tutus, resulting in an electric atmosphere!  
Walkers could take part as individuals or in teams, with the option of walking in memory of someone close to them. A poignant memory wall was set up at the start, where participants could write a tribute and remember their loved ones. 
At the end of the challenge, walkers were cheered across the finishing line, given a medal and a celebration breakfast with a glass of prosecco to enjoy. 
On the starting line, St Catherine's Chief Executive, Giles Tomsett, encouraged everyone to light a torch in memory of a loved one: "We are surrounded by many, many people who have lost someone they love under hospice care, or in the last few years due to the horrendous dislocation of the pandemic. Let's try and remember those people we are all walking for, and if you're not walking for someone, please think about the 2,000 people you are helping tonight. Please raise your torches and we're going to have a moment's silence just to remember that you are making a difference." 
After the event, Giles reflected on the night and said: "The Midnight Walk was a fantastic night. To see hundreds of members of our local community come together, all proudly wearing their bright orange t-shirts for St Catherine's was incredible. The hospice is celebrating its 40th Anniversary in 2023 and in this milestone year we continue to rely on the dedication and generosity of local people to keep our services running. It was wonderful to witness the energy and enthusiasm with which walkers took part and showed their support for our crucial work helping people at the end of their lives. We know everyone who took part thoroughly enjoyed it. We also hope they'll take part again, and their example and enjoyment will encourage others to participate next year when we do it again!" 
Amongst the walkers were Ashley Groves and his friend Benji Austin-Way. Ashley encouraged his friend Benji to join him for the seven mile walk after his co-worker got diagnosed with lung cancer.  
Ashley said: "I've been surprised at just how many people have taken the time to chat to us. Everyone is just so friendly, which is exactly what I imagined it would be like. It's all run very smoothly and I have really enjoyed myself. I'd definitely do it again and think I will take on the 13-mile route next year." 
Benji agreed: "It's been great chatting to other walkers along the route and hearing how they are getting on. The marshals have been lovely as well – we even sang Sweet Caroline with them at one point! The walk has been really well organised and everyone has been so helpful at all parts of the event. I'd love to do it again." 
Magdalena Kazimierczyk took on the seven mile route with her friend Angelica Ptyka. Magdalena said: "Angelica asked me if I wanted to join her for the Midnight Walk and I said why not, let's do it! It's been amazing and really nice walking with other people too. Everyone involved has been brilliant and really helpful – the sweets along the route are a great touch. We're already planning to come back next year to take on the 20 mile route!" 
St Catherine's Hospice provides expert end of life care and support to terminally ill people and their families across West Sussex and East Surrey.  St Catherine's cares for around 2,000 people every year living with a terminal illness, in its hospice in Crawley, in people's own homes and in care homes. Eight in ten people cared for by St Catherine's are supported in the comfort of their own home. 
To find out how you can take part in future events for St Catherine's, please visit: www.stch.org.uk