SHW adds two new Partners to its South East-based team
Published: 19 Apr 2023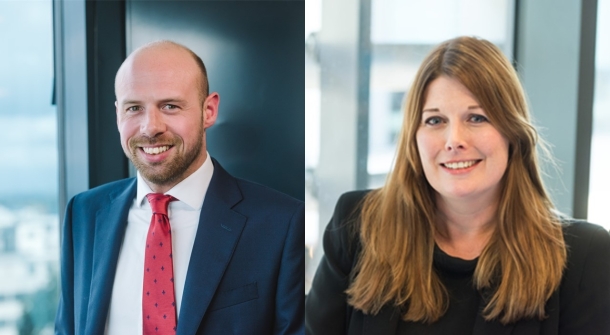 SHW has announced that it has promoted two of its Directors to Partner level, taking its Partner total to 25 as of 1st April 2023.
Gemma Quinn will take the title of Partner and Head of the Professional Services Team covering SHW's London and South London offices. Having joined SHW in 2017, Gemma was promoted to Director in 2021. With her expertise focusing on Valuations and Leasehold Enfranchisement, Gemma works primarily as a Registered Valuer. SHW is on the valuation panel for most high street mortgage lenders and Gemma and her team carry out secured lending valuations on a broad variety of asset classes, most notably Residential, Commercial and Industrial, as well as specialist valuations of nurseries, GP practices, churches, and HMOs, for Family Trusts and private individuals. As part of her lease extension work, she has successfully represented her leaseholder clients against a number of London-based, landed estates, as well as representing freeholders in lease extension negotiations and collective enfranchisement claims.
Since joining SHW, Gemma has grown the Professional Services team, doubled its headcount and expanded its services in Ratings, as well as Valuations, increasing profits year on year. Aside from her day-to-day responsibilities, Gemma organises SHW's annual lunch for SHW's female clients as well as speaking at a number of professional events throughout the year.
Duncan joined SHW in 2013 from a local independent surveyor, appointed as a Property Manager and promoted to Senior Property Manager in 2015. In 2017 he was promoted to an Associate and became RICS qualified and in 2021 was promoted to Director. Heading up the Private Rented Sector (PRS) department at SHW, Duncan has combined the two regional PRS teams within the firm (the South London and East Sussex offices) and helped to increase the total properties managed from 300 to now over 600 and is looking to continue to grow the department further.
Since taking on the role of Head of PRS, Duncan has revamped the teams' procedures and protocols, making use of technology where relevant, streamlining processes and bringing uniformity across the department which has freed up fee earners time away from the administration tasks. Duncan has increased profits year on year across his team's service line, with the team, its clients and properties under management continuing to grow. The majority of the team's work covers Central and Greater London, down to and across the South coast, with the wider portfolio stretching all across the UK from Cornwall to Yorkshire.
Russell Markham, Managing Partner at SHW, comments: "Both Gemma and Duncan's experience, ideas, and dedication to the business - and to their teams - has enabled SHW to grow its Professional and PRS services exponentially, significantly contributing the overall growth of the firm. By leading by example, their support for all levels across their teams is inspiring and their promotion to Partner very much deserved. Speaking on behalf of my fellow Partners, I am delighted to acknowledge their hard work and am confident they have much more to give in their new positions."