Step Out with YMCA DownsLink Group and Help Prevent Youth Homelessness in Sussex and Surrey  
Published: 12 Jun 2023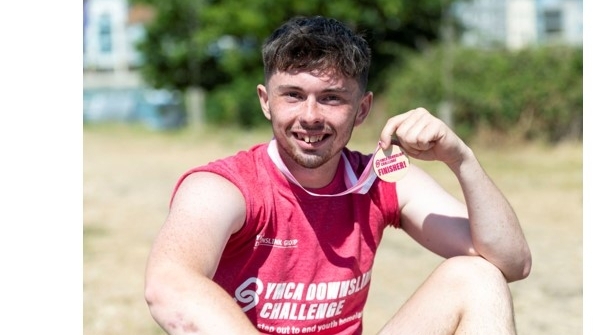 (Photo Captions: Josh, resident of YMCA DownsLink Group finishing YMCA DownsLink Challenge in 2022. Money raised by YMCA DownsLink Challenge will go towards services to end youth homelessness in Sussex and Surrey.)
"The YMCA have changed my life." Josh (pictured), YMCA resident, 2022 DownsLink Challenge participant and YMCA Youth Ambassador.
It's back! On Saturday 15th July you can take part in the YMCA DownsLink Challenge, a 17.5 mile sponsored walk along the beautiful Downs Link Pathway (from Horsham to Shoreham), knowing every step will help change young lives.
Last year more than 100 people stepped out to raise money for YMCA DownsLink Group, the South East's leading charity in preventing youth homelessness and supporting young people in crisis. The money raised helps the charity provide holistic, wrap-around, support for young people facing homelessness. Many of the young people who are given a safe home with the charity have faced significant challenges before living at YMCA. Staff get to know them individually and give them the help they need so that they're able to get back into education, training, or employment. Support, at this crucial time in their lives, can make all the difference to their long-term future and break the cycle of disadvantage.   
Last year, Josh, a resident in 24-hour accommodation, was encouraged to take part in the challenge. At 19 Josh faced homelessness due to issues at home. He'd lost his confidence and was struggling. When he was given a home with YMCA, he began to rebuild his self-esteem. His keyworker encouraged him to get involved in the DownsLink Challenge and it proved to be a turning point. Although it's not a race, he was one of the first to cross the finish line and was bursting with pride at his achievement. He's since moved into semi-independent living, is working full-time, and has stepped up to become a Youth Ambassador for the national YMCA federation. Having received so much support from YMCA DownsLink Group, he wants to 'give back' and raise awareness of the charity's impact so that they can help more young people like him.  
Josh said: "The YMCA have helped me so much, I just want other people to get the support I have had. I felt so proud of myself when I did the challenge, I never thought I could walk 17 miles, but I did it and felt so happy with myself. I'm now doing all sorts of things I never thought I would. Without the YMCA I wouldn't be where I am today."   (LINK to video of Josh)  
By taking part in the DownsLink Challenge you can help give another young person, like Josh, a second chance. Every night YMCA DownsLink Group gives over 650 young people a safe home and it reaches a further 10,000 through its counselling and advice services. The charity is seeing an unprecedented rise in need, which, coupled with the cost-of-living crisis, means fundraising events like these are vitally important.
Registration is just £20 which covers the cost of putting on the event and includes a branded T shirt and finisher's medal.  To sign up or for more information, visit:  YMCA DownsLink Challenge