Updates, events and opportunities to work with the University of Brighton - Jan 2023
Published: 06 Feb 2023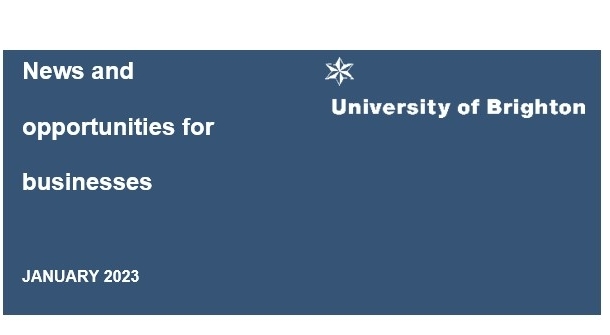 Here are some of this month's highlights for our regional businesses and beyond - including some of the ways we can provide skills and innovation support. 
If you would like to learn more about how the University of Brighton could work with your business - visit www.brighton.ac.uk/business or get in touch at enterprise@brighton.ac.uk. 
New Higher Technical Qualifications launch
New Higher Technical Qualifications (HTQs) provide new routes to careers in software development, cyber security, business and data analysis.
Public lecture series returns
Delivered by newly appointed professors, lectures delve into the ground-breaking research Brighton academics are carrying out to address some of the biggest challenges facing people and communities here in Brighton, across the UK and around the world.
AI visions of a sustainable future
Visitors to the University exhibition, open until the 7 February, will have the chance to explore the (quite literally) limitless potential of AI-rendered art to inspire solutions for a world impacted by climate change and environmental degradation.
Work with us
Help to Grow business support 
Business leaders on the Help to Grow Management course tell us how much they appreciate the time away from the business to work on a growth action plan.
Circular Economy and Sustainable Products workshop ????????
Are looking to make truly sustainable products & grow your business? 
Then don't miss our FREE taster session for the BRITE Product Foundry programme! 
How do you get started on an innovation project?
This exciting, free, five STEP programme provides SMEs with the expertise and support to scope, test, evaluate, pilot and scale new, or re-worked products or services.
Upcoming events and workshops
2 February, 10.30am-11.30am - Online (Zoom)
How to write a winning grant application
7 February, 10am-12pm - Online (Zoom)
8 February, 10am-12pm - Online (Zoom)
Circular Economy and Sustainable Products
9 February, 9.30am-11.30am at Plus X Brighton
14 February to 21 February, 9.30am–5pm at Plus X Brighton
Identity: Its creation, growth and defence among gay and bisexual men
15 February, 6.30pm at Elm House, University of Brighton
Net Zero 360: Become a sustainability pioneer
20 February to 6 March, 9.30am–12.30pm - Online (Zoom)
Become your own market research expert
21 February, 9.30am-12pm - Online (Zoom)
21 February, 9.30am-4.30pm, Business & IP Centre, Crawley
RISE and Shine Innovation Club
22 February, 9.30am-12.30pm at Tottington Manor, Henfield
Marketing Strategy for Business Growth
From 22 February to 15 March, 9.30am–12.30pm - Online (Zoom)
Net Zero 360: Become a sustainability pioneer
From 22 February to 8 March, 9.30am–12.30pm  Online (Zoom)
Five sessions from 28 February to 28 March, 10am-12pm - Online (Zoom)