Your April update - Sinc
Published: 16 May 2023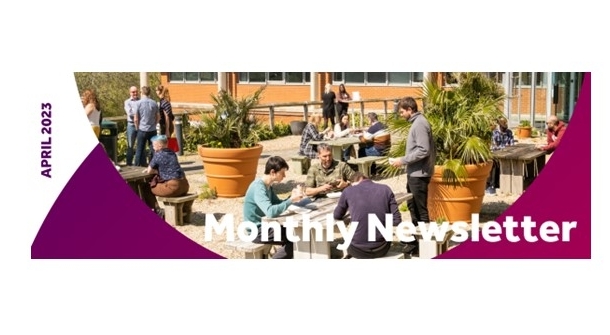 April: wellbeing in the workplace
April is Stress Awareness Month, and to mark that we held our first members' social of the year across our Falmer and Croydon hubs last week. Wellbeing Day was a great chance to get out of the office, eat some delicious food and socialise with the Sussex Innovation community.
As well as free massage tasters and discounted yoga classes, we also took in a few workshops led by members with a focus on workplace wellbeing and mental health. If you're interested in exploring innovative ways to reduce stress and boost productivity, check out our upcoming Knowledge Hub on the 4-day work week in the events round-up below.
And if you're looking at other strategies and tactics to improve workplace wellbeing, we'd love to hear from you and find out more about your experience.
Thinking Innovation
Our consultancy team share their insights around the latest trends in innovation. This month: four-day weeks, models for education and designing an ecosystem where innovation can flourish.
What to know about the four-day week
Ahead of our upcoming Knowledge Hub sessions, we dig a little deeper into Dr Charlotte Rae's research project and the impact on participants minds, brains and bodies.
5 minutes with Joseph Bradfield and Claire Wingate
Get to know the Sussex Innovation team better - this month, we've interviews with PR & Communications Advisor Joseph and Sales & Community Manager Claire about their roles, skills and interests.
Innovation in education
The education sector is one of the most vital industries for innovative thinking and practices - what are the established and emerging trends that are helping to ensure greater equality and equity?
What to consider when building an innovative ecosystem
Five key factors to consider if you want to embed innovation within your business, from culture to policy.
What's Happening?
A selection of the latest headlines from the Sussex Innovation community. This month, comment from our members on the government's energy and education policies, and a major milestone for Advanced Material Development.
Coming Up...
The most important dates for your diary next month. Make sure you take a look at our upgraded calendar, which now contains a curated rundown of all the best upcoming events from our partners across the South East. 
Knowledge Hub Falmer: The 4-Day Work Week 11th May
Hear leading authority Dr Charlotte Rae's insights from last year's study into the 4-day work week with Sussex-based SMEs. Find out what works, what doesn't, and how you can test and implement the four day week in your business with Charlotte's support.
Bitesized Learning with Brighton Chamber 24th May
Understand how to focus on your clients and drive growth in your business with this session at the Business & IP Centre with Annabel Dunstan of Question & Retain.
One Day Business Finance Bootcamp 25th May
Learn how to raise capital and get your accounts in order with a series of sessions from StartUp Croydon, looking at the tools, techniques and tips that any small business bookkeeper needs in their arsenal.