Your May update - Sussex Innovation
Published: 31 May 2023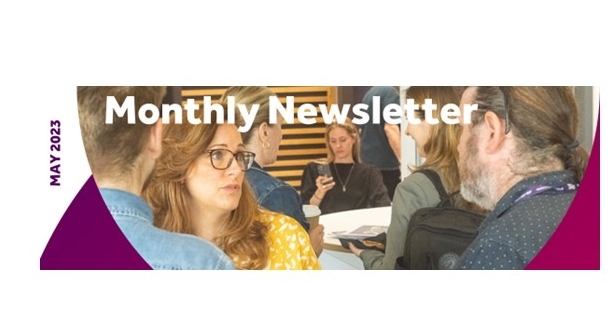 May: spring is in the air
It's been a sunny, bank holiday-filled month, so you'd be forgiven for thinking that May might have been quieter than usual. But spring is a season of renewal at Sussex Innovation.
We've been hard at work launching our enterprise programme for academic researchers at the University of Sussex, supporting student entrepreneurs (more on which below), and kicking off a new regular programme of networking breakfasts for our community.
As we put the finishing touches on our summer events programme, let us know what networking opportunities and knowledge-sharing sessions you'd like to see.
Thinking Innovation
Our consultancy team share their insights around the latest trends in innovation. This month: student entrepreneurs, working from home, and protecting your hearing in the workplace.
StartUp Sussex 2023: speaking to the winners
Joseph interviews this year's winning businesses on awards night in the annual University of Sussex student enterprise competition.
How to effectively work from home
Busola shares tips for staying productive, creative and focused while settling into a hybrid work routine.
5 minutes with Aly Davie and Habib Jalil
Get to know the Sussex Innovation team better - this month, we've interviews with Marketing & Partnerships Coordinator, Aly, and Project Coordinator, Habib, about their roles, skills and interests.
Love Your Ears campaign visits Sussex Innovation
The ITV cameras were at Sussex Innovation Centre last month as part of a national hearing loss awareness campaign - watch the film and find out more about how to protect your hearing and support colleagues with hearing loss.
What's Happening?
A selection of the latest headlines from the Sussex Innovation community. This month, comment from us and our members about hybrid work models, artificial intelligence in search, working with recruiters and the facilities management market.
Coming Up...
The most important dates for your diary next month. Make sure you take a look at our upgraded calendar, which now contains a curated rundown of all the best upcoming events from our partners across the South East. 
Knowledge Hub Croydon: The 4-Day Work Week 15th June
Hear leading authority Dr Charlotte Rae's insights from last year's study into how small businesses are adopting the 4-day work week. Find out what works, what doesn't, and how you can test and implement the four day week in your business with Charlotte's support.
Knowledge Hub Falmer: Securing Grant Funding 5th July
Hear a first-hand account of the Innovate UK funding application process, and learn about the do's and don'ts of preparing for, applying for and securing grant funding for small and micro-businesses.